Description

Features of Product

Spectrum Test Report

Q&A
ZW0187-00 150W UFO FULL SPECTRUM LED GROW LIGHT
Rated Power

AC85~265V/150W

Power Consumption

40W±3%

Base

With plug

LED Chips

50pcs(39red+7blue+2white+1IR+1UV)

Material

Aluminum Alloy

+PC

Span Life

50000hours

Lumen

4844lm

Hanging Distance

Seeding: 24"-30" Growth: 16"-24" Bloom: 12"-16 "

Work Temperature

-4°F ~105°F (-20°C ~ 40°C)

Cover Area

3-5m²

Beam Angle

140degree

Gross Weight

1200g

Dimension

6.9" x 2.4"

(175mm*60mm)
1.Full Spectrum and Wide Use
430-440nm, 450-460nm, 610-615nm, 620-630nm, 650-660nm, white, IR, UV 380-400nm, 470nm; Suitable for all stages which can reach the different lumen & lighting area, which Means one light is enough for seeds to fruit stage growth.

2.High Efficiency and Good Quality
High lumen LED grow panel with top quality chips to ensure higher light penetration.

3.Professional Spectrum
Red and blue light has the best contribution to photosynthesis, affect directly of plants growth. Professional light proportion with the best ratio of red ray and blue ray, providing better light environment for plants growth and improving the growth speed and output of plants according to growing practice, this ratio can provide more useful light to help plants grow faster, provides the most suitable light spectrum needed for plants sprout and growth.

4.Better Cooling Effect and Long Span Life
UL approved fans+ Aluminum heat conducting plate, lower noise makes and reach better heat dissipation. Avoided sun burning and extend using lifespan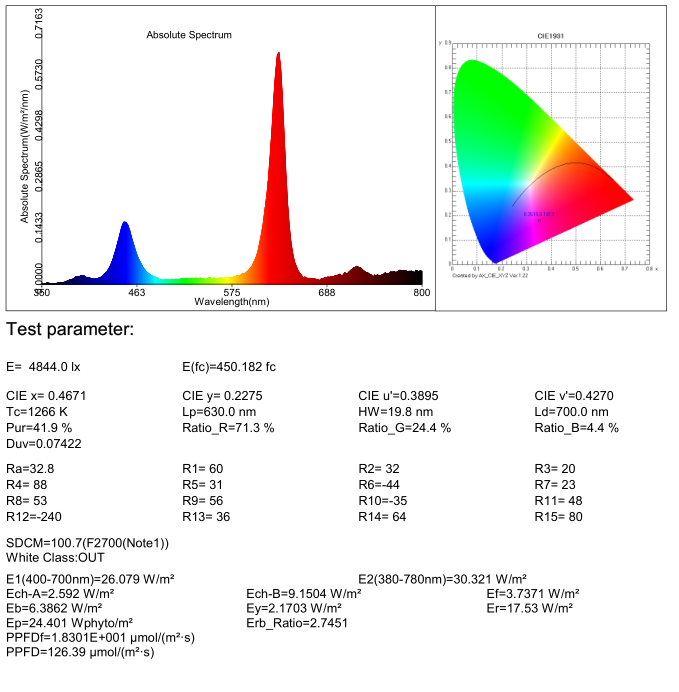 1.Q:How high to hang from plants?
A:It depends what you are growing. PAR at 50 cm is around 200, PAR around 20 cm is around 1100. You'll probably want somewhere between 20 and 50 cm from plants.

2.Q:Would anyone be able to tell me how much it would cost to run this 12 hours a day?
A:Dear Customer,Thanks for your question. If you use this light 12 hours a day, costs of the electrisity is 0.5dollards/degree. The cost=0.062w/h x 12h/day x 0.5 dollar/h = 0.372dollars/day. If you need more information about this item, please feel free contact us by email:enquiry@legdgs.com

3.Q:How long should it last if run 24/7?
A:No clue, I run it 12 hours a day

4.Q:Will this light work from seed to harvest?
A:Hi Friend,Thank you for your question. Yes, our UFO 300W led grow light has 380-760nm full spectrum include UV&IR and 3000k Cree COB, the complete and ultra-efficient spectral provides plants seed, veg, flower and harvest all stages growth.

5.Q:would this light be ok for a 2ftx2ft grow tent? worried about temps and light burn for plants
A:Dear Customer,Thanks for your question under the item UFO150W led grow light. We are glad to advise you the specifictations of our UFO150W products as follows:1、Core Coverage Area 1.5x 1.5ft at 24" Height.2、Max Coverage Area 2x 2ft at 24" Height.